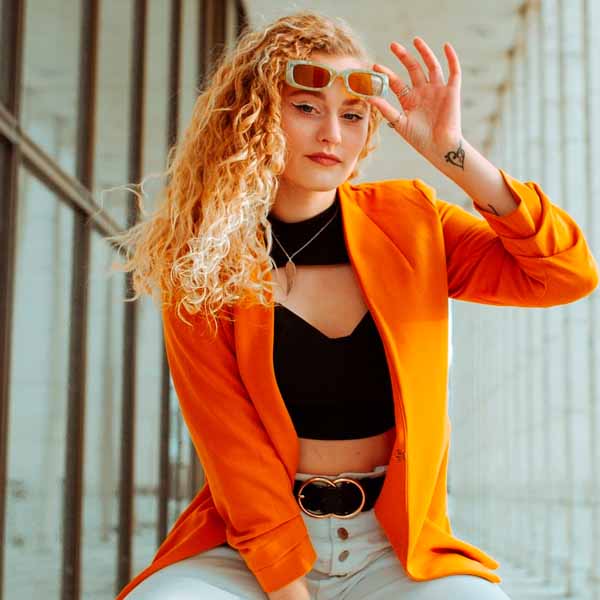 Kaylin Kole
August 12 at 5:00-7:30 pm
Nashville based singer-songwriter Kaylin Kole is a spunky pop artist with bold tones and style. A natural born performer, Kaylin's vocals and energetic stage presence captivate audiences even before her vibrant personality and curly hair.
Spending the first 18 years of her life in Portage, Wisconsin, Kaylin's beginnings in music were humble. She started singing in karaoke competitions, which led to full band opportunities. Her vocal ability and stage presence caught the attention of regional bands "Shotgun Jane" and "Spitfire Rodeo". Traveling to different cities every weekend, Kaylin was able to meet new faces and get to know her audience well. By the age of 16, she was touring across the country with original music. In the summer of 2017, Kaylin made the move to Nashville and released her first EP called "IncEPtion" with Grammy Award Winning songwriter Bobby Boyd (Rascal Flatts, Alabama).  "Kaylin is an exciting young artist who is way beyond what her years would suggest. She's able to perform any genre she chooses, and does so with her own unique style. She is a force to be reckoned with, and an up-and-comer to be watched as her star rises." boasts Boyd.
The EP was just the start; music continues to stream from the singer-songwriter. She has featured on radio stations such as the JT and Johnny Show, WTTN 92.7 FM 's highlight with Teri Barr, and 94.9 WOLX. Her music can also be heard live, as she frequents various Nashville stages. Kaylin's favorite part of performing is getting to connect with her audience as loving people is integral to her personal mission statement. She loves hearing how her songs allow others to put words to their own difficult experiences. Kaylin uniquely thinks of music as spiritual, connecting to hundreds of strangers through words and melodies. The stage also gives her a fun opportunity to showcase her infectious sound and personality. Aaron Schilb, CEO of Nashville Tour Stop, loves booking Kole into writer's rounds in town for that exact reason. "Kaylin Kole's pop sensibilities and keyboard bops are a perfect representation of her quirky, fun, and exciting personality – all of which contribute to a memorable performance both on and off stage."
Recently, Kaylin has returned to the studio to create more music and has had the opportunity to work alongside both Lauren Daigle and Matthew West. She hopes to show her heart through her music and to inspire those around her, never being afraid to be herself. She encourages her audience to do the same and to enjoy every day, as it is a blessing. Stay up to date with Kaylin Kole across all streaming platforms and socials for upcoming releases and shows.
.
Facebook | On the Web | Instagram | YouTube