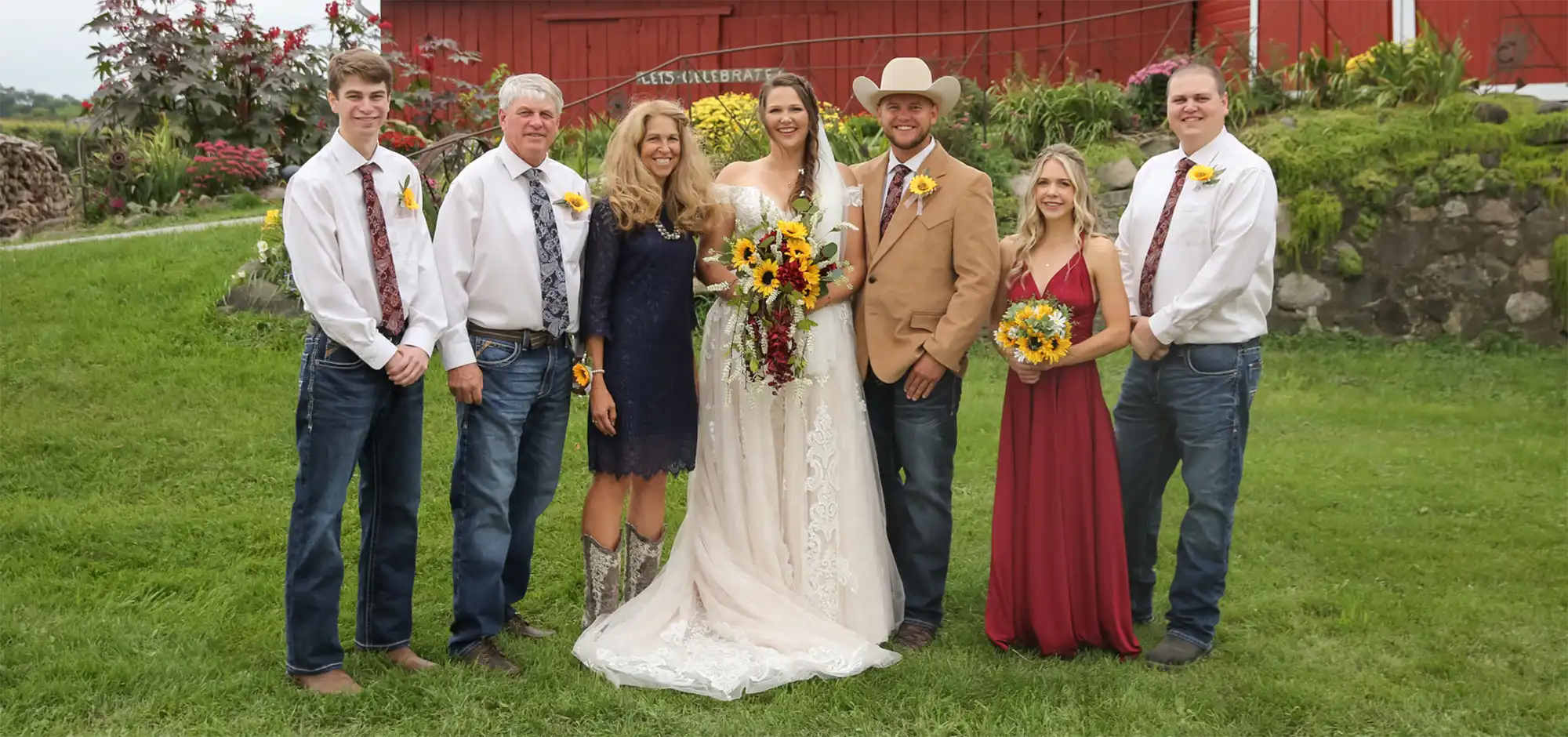 About the Farmers
Don grew up on a hog, dairy and cash crop farm in Sun Prairie. The farmer's love of the land and need to till the earth was deeply a part of him. Theresa knew early in their courtship that to love the man would mean to love the land. Don's family farm couldn't be purchased because it was growing houses so three years into wedded bliss the search for land began.
The search came to an abrupt halt when one life-altering day in 1990, Theresa drove by the Gangstad farm as she did every day on her way to work. That day, however, there was a For Sale sign on the front lawn! Three days later, the farm became the Schuster farm — a dream come true for Don and the beginning of whole new world for Theresa.
In the spring of 1994, after three years of varying ventures, including growing tobacco, and pot-bellied pig and miniature donkey breeding, Don planted 1/3 acre of pumpkins — the crop he grew himself as a youngster and sold door-to-door using his little red wagon. After several years of adding different fall produce and decorations, Theresa convinced a reluctant Don to build a hay wagon. School tours started that year and we have been too busy to ever look back!
Now in our 30th season, we are working more on the farm than off. Don concluded his time working at UW-Madison a few years back. Theresa retired from Madison Schools as an occupational therapist in May 2022.
Hugh graduated from college in May 2017, and he and his high school sweetheart got married at the farm the following July. They both are engineers in the Midwest.  Christian is a senior at UW-Madison studying Mechanical Engineering and has accepted a full time engineering position in Madison.
Sarah graduated with a Masters in Life Sciences Communication from UW-Madison in May of 2021. She is back on the farm full time managing the farm's marketing, food, and wherever else a hand is needed. In September 2022, she married her funny farmer, Mitchell. Mitchell also works full time on the farm fixing equipment, driving tractor, and being the Director of Fun. Together, they are look forward to continue growing the business.
Many new additions to the farm are in creation! Herman is whispering in my ear … he told me to give you a sneak peak, ready? Kids are peddling, pretzels are baking, and tires are swinging …well? Herman wants to know if you're coming to check it out.
We love our land, buildings, and the history it all represents. We're excited to unveil the new and listen to our visitors reminisce about the old. Welcome to Schuster's Farm!